RUKO Tactical Survival Knife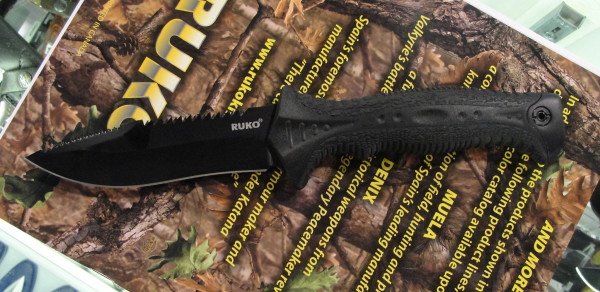 New RUKO Tactical Survival Knife
RUKO has been making knives and tools for over five decades, and at SHOT Show this year the showed off their new Tactical Survival Knife (Model RUKO161B). This knife really stood out to me. The lines are simplistic, but still portray very nice ergonomics and purpose. The rubberized grip is slip-resistant, with curves that are designed to fit the natural grip of the hand. The blade has a drop point with razor's edge, and the added benefit of serrations on the top of the blade for more heavy cutting.
In Patrol an officer tends to be a little more limited in what they can legitimately carry on their person or on their duty belt. However, I have still found carrying a large blade knife beneficial for certain situations where a pocket folder just won't cut it. Being the sniper on our Cover Team, I have a lot more leeway to select longer and larger knives. This RUKO Tactical Survival knife is a serious contender for the types of cutting work necessary for the particular needs on tactical teams.
The razor cutting edge, and serrated top for heavier cutting.
RUKO Tactical Survival Knife Specifications
Overall Length – 10.5″
Blade Length – 4.75″
Blad Width – 0.177″ (4.5 mm)
Blade Material – 7Cr17MoV with titanium nitride finish
Blade Type – Full tang blade, razor edge with top serrations
Handle – Molded GFR nylon/rubber and metal end cap
Sheath – Molded GFR nylon/rubber with integrated diamond sharpening stone
Sheath Backer – 1680D Molle compatible boxed blade
MSRP – $79.00.
The RUKO Tactical knife with its nylon/rubber holder.
The <a target="_blank" rel="nofollow" data-cart="n" data-cloak="n" …read more
Read more here:: Blue Sheep Dog